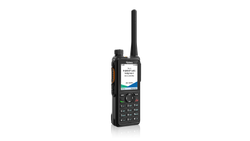 Hytera HP785 (Standard Edition) Digital Handheld Two Way Radio
What you get ✓ Hytera Digital Radio ✓ Li-ion Battery ✓ Nylon Strap ✓ Belt Clip ✓ 24...
What you get

✓ Hytera Digital Radio
✓ Li-ion Battery
✓ Nylon Strap
✓ Belt Clip
✓ 24 Months Warranty (Only for the radio)
Hytera HP785 (Standard Edition) Digital Hand Portable Two Way Radio
HP785 is Hytera's brand new professional digital radio, and represents the future on style and functions that refreshes the standards in digital radios, providing more efficient and more reliable communication with loud and clear audio, powerful battery, remarkable portability and ruggedness for ease of use across multiple environments and industries.
Thinner and Lighter
An optimized mechanical design and a compact lithium polymer battery are discreetly made to fit into the HP785's design, making the radio only 29.5mm in thickness and 310g in weight, easy to carry.
More Intuitive and Efficient
HP785 brings a large screen and a brand new intuitive UI to make the operation more efficient.
The 2.4-inch colour screen can display more information (i.e. 6 contacts) per page.
Its Quick Access Menu allows users to set the radio faster.
Messages are listed in conversation for quick reading and review.
The Interface Switcher is added to the option of programmable buttons, allowing quick switch between up to four frequently accessed interfaces.
Louder and Clearer Audio
HP785 equips an optimized powerful loudspeaker that can help users to hear clear sounds even in a noisy environment.
Water-porting technology is also used to drain out any water that gets into the speaker cavity, ensuring the audio clarity is maintained.
AI-based noise cancellation technology can decrease 30dB background noise and howling. No matter what noise environment the calling party is in, it ensures that the called party hears a clear sound.
Longer Battery Life
HP785 optimizes product design and technologies to reduce power consumption, meanwhile the latest in proven lithium polymer technology is used in the standard battery which is lighter and smaller than ever before.
The new technologies bring a duty cycle of 5/5/90 on achieving a shift life of 24 hours on high transmit power and ensure a full day of delivering key information and calls.
Enhanced Coverage
Extends the operational range and improves the talk range through high receiver sensitivity and high transmit power, stretching communications into areas where it simply was not possible before.
Higher Level of Ruggedness
HP785 is designed as per the MIL-STD-810G. 
It is IP68 rated, impervious to water jets and submersible to a depth of 2 meters for 4 hours, and also resilient to 2-meter drops onto concrete.
No matter where the mission drives the officer, the HP785 is the partner to count on, because it can stand up to the toughest environment.